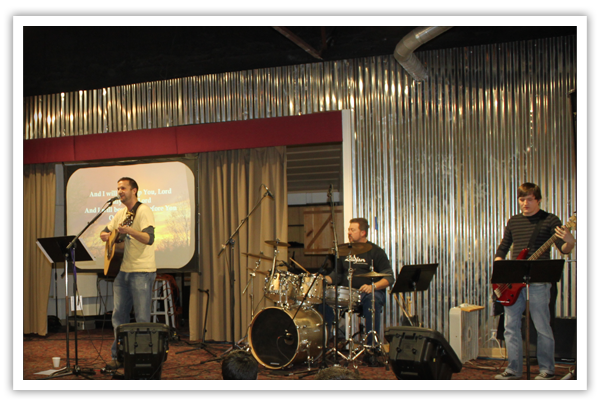 At the retreat, one of our volunteers was paired with a very talented young lady. It wasn't long before she started sharing her musical background (piano, guitar, and viola) and her desires of becoming a model and musician. With her dreams of modeling already slowly becoming a reality, she somewhat quietly longed for Cheana's (the retreat's pianist/singer) job. After a great Friday night of worship, she woke up Saturday with confidence enough to approach Cheana during the girls' activity center time and ask permission to perform a song she wrote. She was invited up on stage to use the keyboard in the privacy of a small audience to build her confidence behind the microphone. Her passion, lyrics, and presence earned her an invitation on Sunday to come back to the chapel where Randal, our retreat band leader, would record her song.
Sunday, after chapel, she took the stage (with a slightly larger audience) to sing her heart out in a song about how she's been saved and blessed. In fact the title of the song is Saved And Blessed. She came off the stage slightly shaken from the adrenalin rush and an outpouring of support, love, and tears from a group of counselors and staff. Randal began playing back the recording.  The moment she heard her notes and lyrics coming through the speakers, she began crying and thanking everyone for making her dreams become a reality.  Just having the blessing of a little technology at our retreats, our wonderful volunteers were able to make this sweet teen feel special.
To bring her dreams to further fruition, our Director approached her with a hug, some tears, and an invitation to sing at the OFC 2012 Ambassadors of Hope Dinner & Auction. She graciously and happily accepted, and was on Cloud 9 for the remainder of the weekend.